Place of birth and place of residence:
I was born in Umbria, in Amelia exactly a small town in the middle of Italy, now I live between Wien and Rome
Website:
andreaboccalini.it
How did you ended up in jazz photography, starting from jazz or from photography itself?
I took my first camera when i was ten years old, but When i was eighteen i stopped to take pictures for more than a decade. After the university I was a journalist for seven years when I switched careers to pursue my passion as a professional photographer. I was thirty when he turned to reportage, working on several projects in Guatemala on child labor and the Campesino movements of resisting the exploitation of mineral resources. These projects resulted in an exhibition of my work for the "Onu dei giovani" in Terni, and to the publication "Conflictos mineros y pueblos indigenas en Guatemala" by Joris van de Sandt. Than seven years ago I was involved with jazz and theater scene photography and portraiture.
Is jazz your main activity as a photographer?
Yes with the reportage too, mainly for the images of CDs, this year will be more than twenty. Live Photography has been my key to get inside the world of music but there isn't a market that can enhance them.
Do you have any other activities related to jazz?
I teach in a lot of Workshops about music photography, I'm a teacher of the Leica Akademy in italy
Do you stay in touch with the musicians that you photograph?
Sure, especially during the recording session when you spend several days with them all day long, inevitably share human experiences and not just music. During the festival sometimes could be more complicated because the schedules are tight, but a beer after a gig with musicians that are friends before artists is a must.
How important are social networks in your work?
They are important mostly to promote workshops and events related to my activity.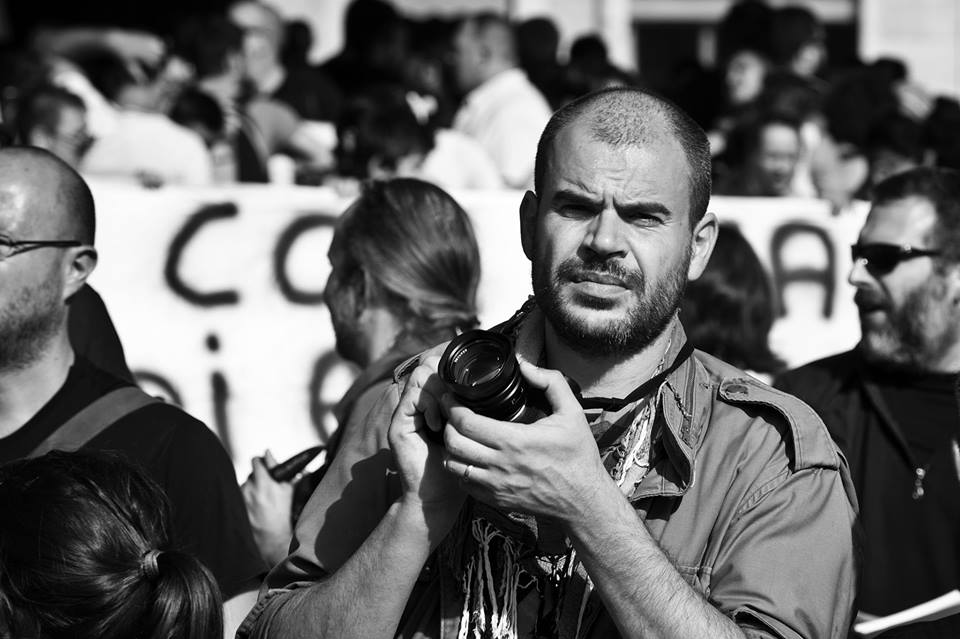 In jazz words, how would you label your most recent work: mainstream, fusion, free, avant-garde…?
I take the mainstream and revisit it in free mood
Can you tell me 3 features of jazz photography that Make it so interesting to your eyes?
I definitely like the fact that in both portraits for albums and in live photos, jazz artists are less tied to glamor and fake utopias. Therefore you can afford to be more daring without yielding to the logic of the market. In addition, the fast moving pace of a jazz stage and the rapport between the artists on it are complex and interesting to reveal. The proximity of some stages allows you to explore the space by finding different points of view and perspectives.
Do you think that there's a relationship between the quality of the music in a concert and the quality of the photographs you take there?
The only difference between a good concert and a bad concert is that in a good concert, when you don't photograph, you don't get bored. In my opinion, stage photography means capturing emotions through the physicality of the artist. I may happen to photograph an artist whose music I don't like but they may have a strong stage presence. Maybe those photos will be even better than ones of an exceptional artist who has a weak stage presence. Obviously, a good concert can incentivize you to take more photographs because it pushes a button inside you.

What side of jazz photography is more attractive to you, the creative side or being a jazz reporter?
They are both important. When I photograph, my goal is to combine both aspects in order to tell what is happening on stage. I use photographic elements such as light, angle, framing cuts to reveal the emotions that these events provoke in me.

Some so called 'jazz festivals' diversify Their offer in favor of other styles of music. Do you think That this trend is a thread for the consistency of jazz photography?
The lights being used on Summer stages lately have become more 'Pop'. Therefore, it's obvious that something has esthetically changed compared to the spot lights that were once used and the shadows that they created. To be more specific, I think a photographer should interpret and adapt to the kind of music that is being played on stage. Obviously, if I photograph a very intimate artist in high key as if they were a pop singer, or vice versa, the quality of the image is affected, I'm not talking about the technical quality inasmuch as an images' photographic quality.
Can you recommend a contemporary jazz photographer?
Any photographer that doesn't exclusively use telephoto lenses. Today jazz photography is often considered only as close-up photography which looks for expressivity or more attractive lighting. However, very complex dynamics between artists and between artists and the surrounding space happen on stage. In order to seize that moment you need to work on composition, find the right balance between both physical volumes and the ones created by light and shadow as well as the focusing hierarchies. It is more difficult because it's not enough to simply find the correct exposure or the right expression. But when you do find a harmony within this complexity of elements, the photograph rises to a different level.
Thanks, Andrea.